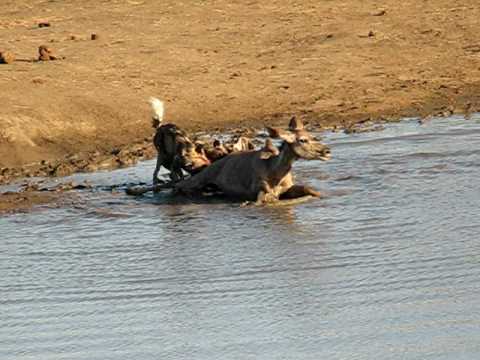 YouTube preserves unmediated Nature
On Youtube, there's a whole sub-genera of safari videos that show, in gruesome detail, what exactly it means to live and die in Old Nature. The above film is a particularly stomach-churning example, depicting African hunting dogs that eviscerate and devour a kudu while the antelope is still very much alive.  It's the sort of material that winds up on the editing floor during the production of a typical nature documentary. Wildlife films sanitize the predator-prey relationship. Death occurs off-screen; if it is shown, it's bloodless and quick.  Amateur nature videos remove a layer of artistic interpretation between the audience and "authentic" nature. Without a sound track or a narrator contextualizing the hunt, death becomes neither triumphant nor tragic. It doesn't impart any moral lessons. In nature, as in YouTube, death just happens.
Amateur videos like "Survival of the Fittest" compete for page views, and so still maintain the entertainment edict of traditional wildlife filmmaking. Web cams trained on nesting birds or savannah waterholes offer an even more immediate experience. They're instantaneous, unedited, and usually unrecorded. In other words, wildlife web cams are the next best thing to being there. It used to be that professionally produced films, articles, and books were the main means for city-dwellers and office-workers to experience any wildlife more threatening than a pigeon.  Advanced digital technologies have helped to restore some 'truth in advertising' to the workings of wild ecosystems. In some sense, YouTube and other websites have become unintentional parks that uphold the conservation of unmediated nature.